The Only Voice Changer for Skype
Skype Voice Changer
Skype Voice Changer is a cute Windows application for Skype users. It can change your voice pitch to a girl or a robot flexibly, and sync your new voice in the Skype call. It can also send free sound emotions to the contact. Call your friend with Skype Voice Changer now!
Highlight
The Benefits!

Joking with Friends
Pretend to be a stranger and play tricks with friends when making a call through Skype. Change voice and let them guess.

Voice Modes
The lasted version gets four preset voices, Dinosaur, Male, Female, and Cat. Click the button to change voice.

Voice Recorder
Integrates Skype call recording features of AthTek Skype Recorder. Take a record of your conversation with funny voice.

Free Sound Emotions
Free sound emotions are provided on our official website. Users can click to play the sound emotions to the caller.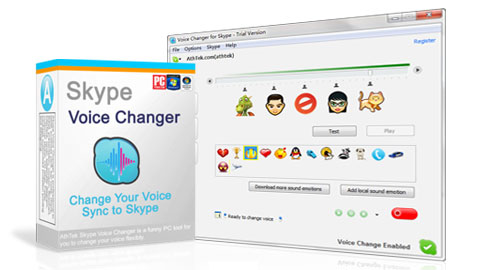 Buy Today And
Have Fun Right Now!

Skype certified voice changer.
It's 100% clean and safe.
30-days money back guaranteen.
Lifetime free updates & support.
See What Others Said!
There are 4 different voice styles for you to choose from: male voice, female voice, cat voice and dinosaur voice. Moving the slider to any of those will automatically change your voice.
Wilfred Mayland, Editor of Download3k
I'm a regular customer of another AthTek Software - the Skype Recorder. It's really impressed. So when this new voice changer came out, I couldn't wait to try it. After I tried, I have to say, it's the one I need!
Jonathan Atkinson